Designed and Produced by WestArtFactory
Premium Cheat Sheets made out of real Printed Circuit Boards
Premium Cheat Sheets
Premium Cheat Sheets made out of real Printed Circuit Boards
We at WestArtFactory want to offer a stylistic alternative to the boring standard cheat sheet. For this, we think about useful cheat sheets and design real PCBs to an industrial standard. After the development is finished, the design is produced and controlled in a highly complex process.
The production goes through various processes until in the end a printed circuit board with tracks made of real gold and a unique look and feel is created. The gold is applied wafer-thin and forms a homogeneous bond with the circuit board.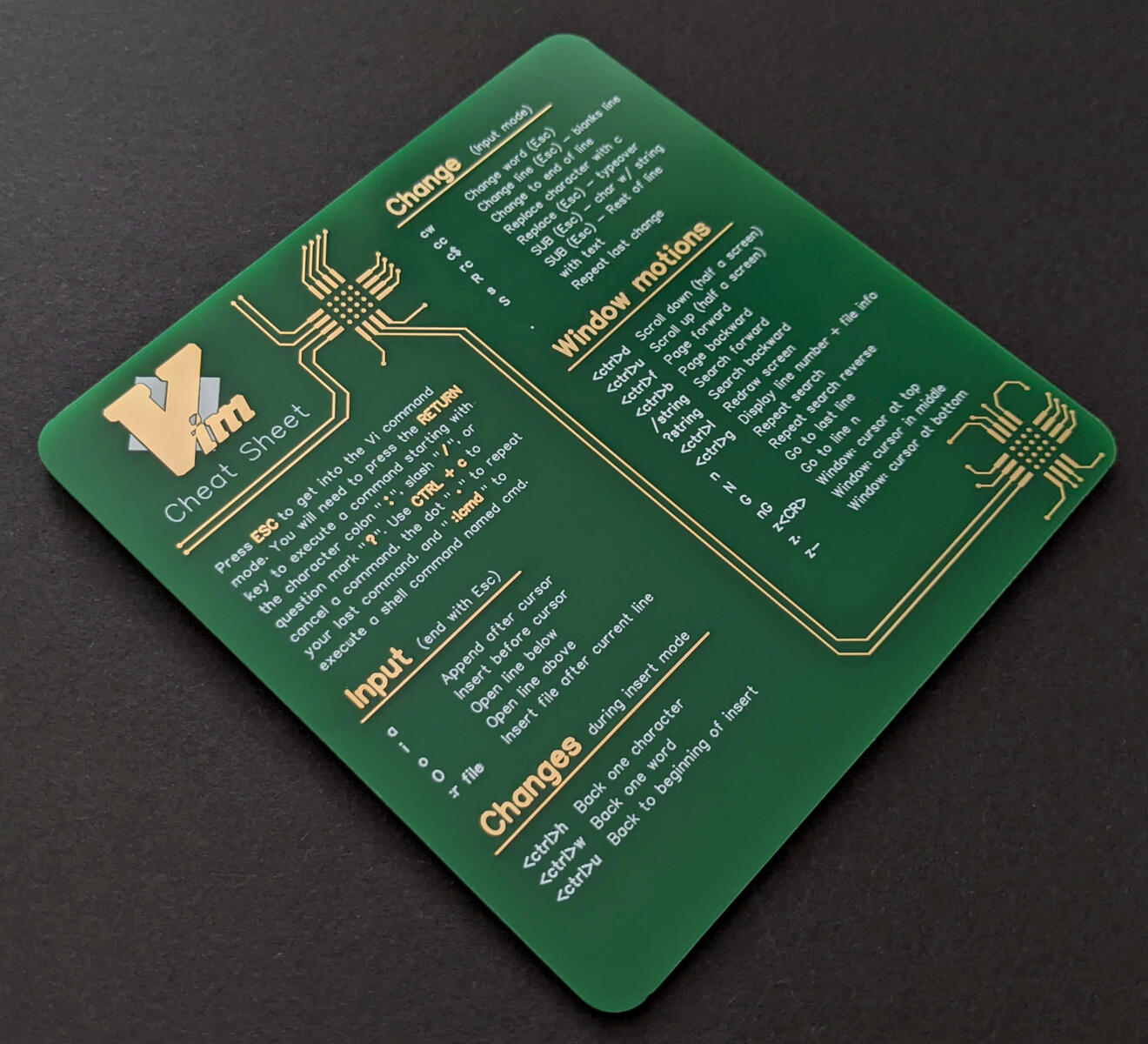 With the cheat sheets from WestArtFactory finally an alternative for the stylish computer freak of today is available. All Cheat Sheets are designed and designed and Produced by WestArtFactory.
Be more Stylish and Smarter than Others
Beautify your desk setup with a unique and superb quality Cheat Sheet and be more stylish and smarter than others. WestArtFactory specializes in combining the extravagant look and feel of printed circuit boards with the compact knowledge of cheat sheets.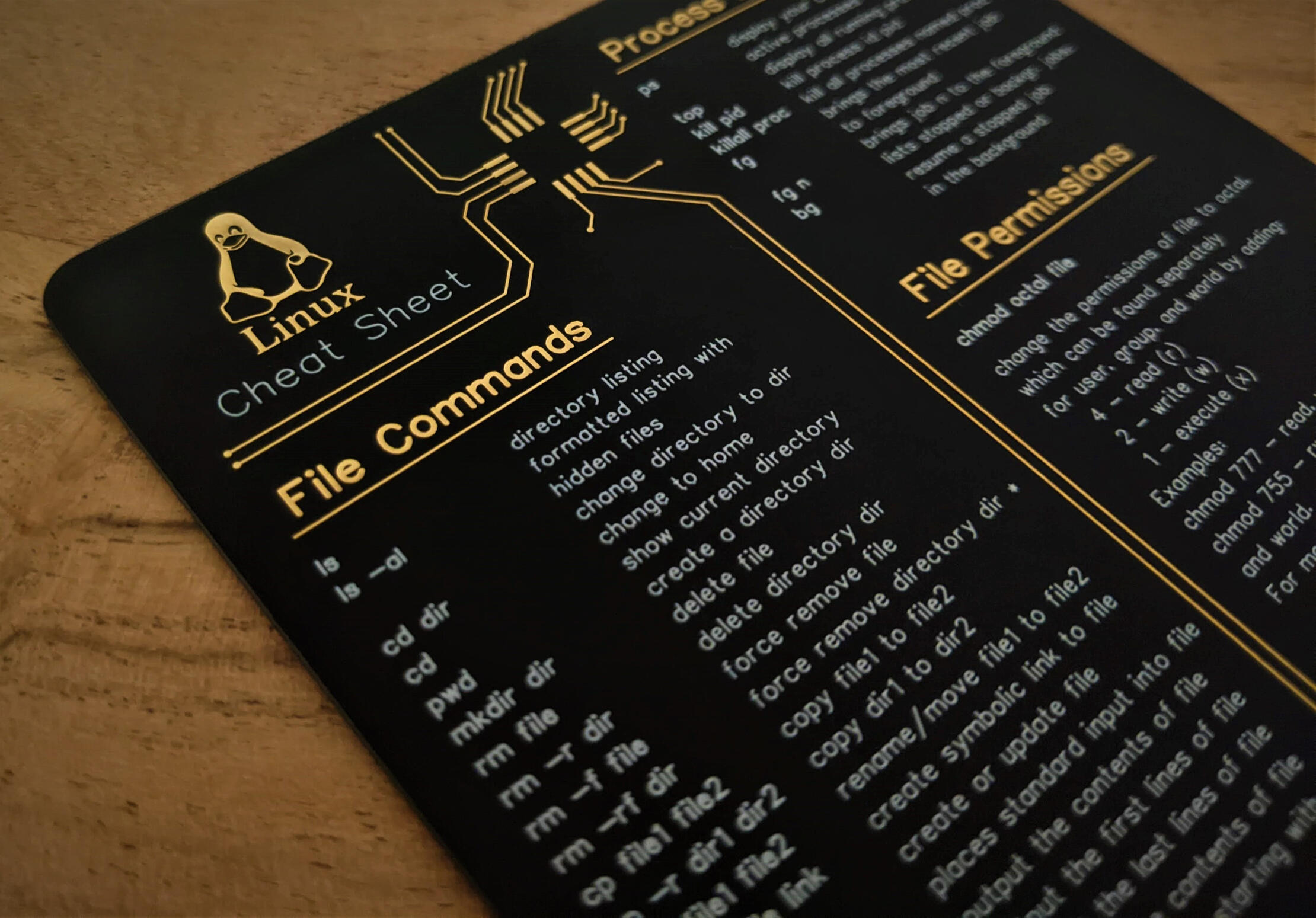 Linux Cheat Sheet
This is the Linux Cheat Sheet you've been looking for. This high-quality printed circuit board is complex development, high clarity text, and real gold traces. The complex production makes it highly special and look and feel. This is the Linux Cheat Sheet you want.
Vim Cheat Sheet
Vim is a highly configurable text editor built to make creating and changing any kind of text very efficient. It is included as "vi" with most UNIX systems and with Apple OS X.Vim is rock stable and is continuously being developed to become even better. Among its features are: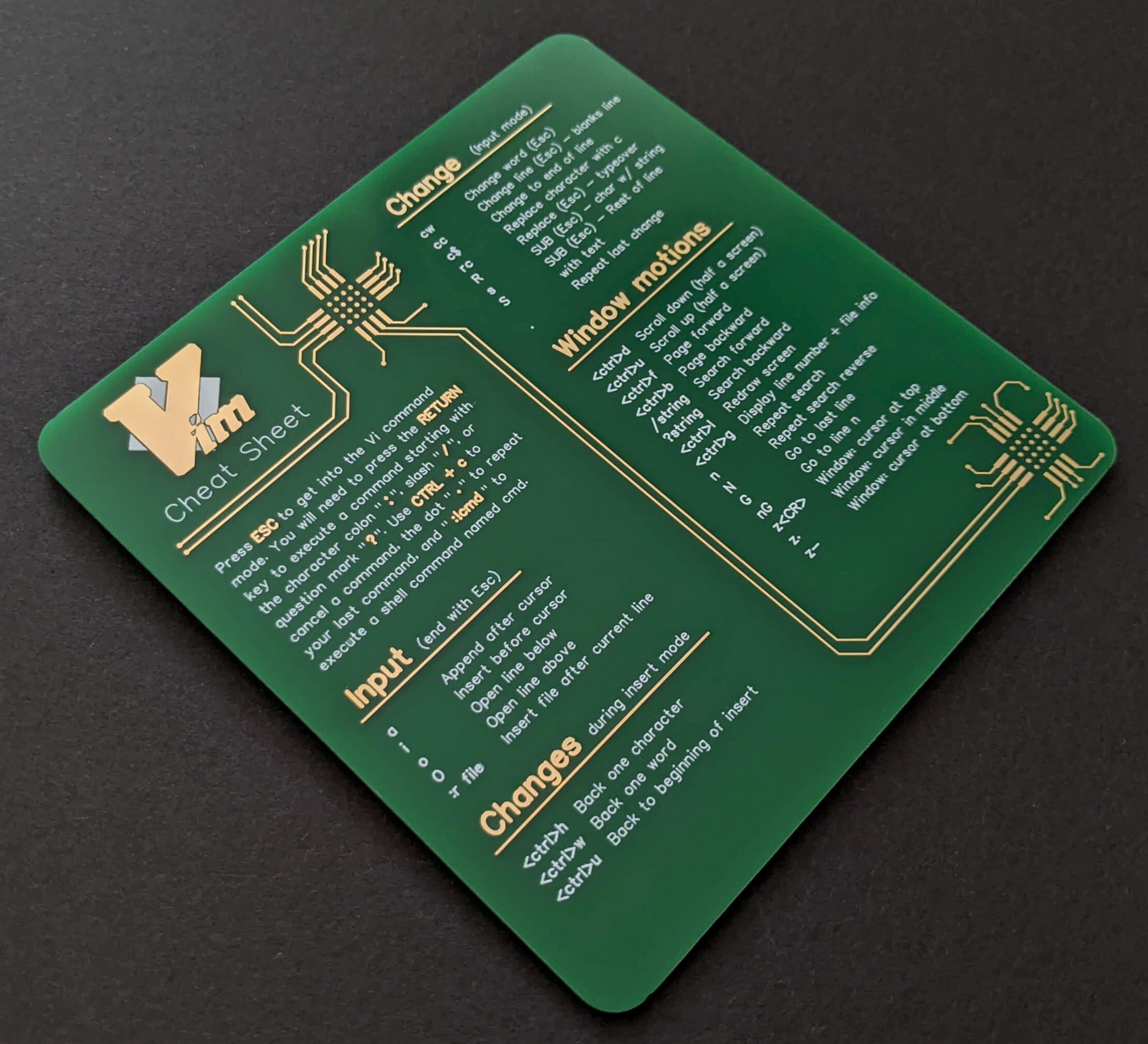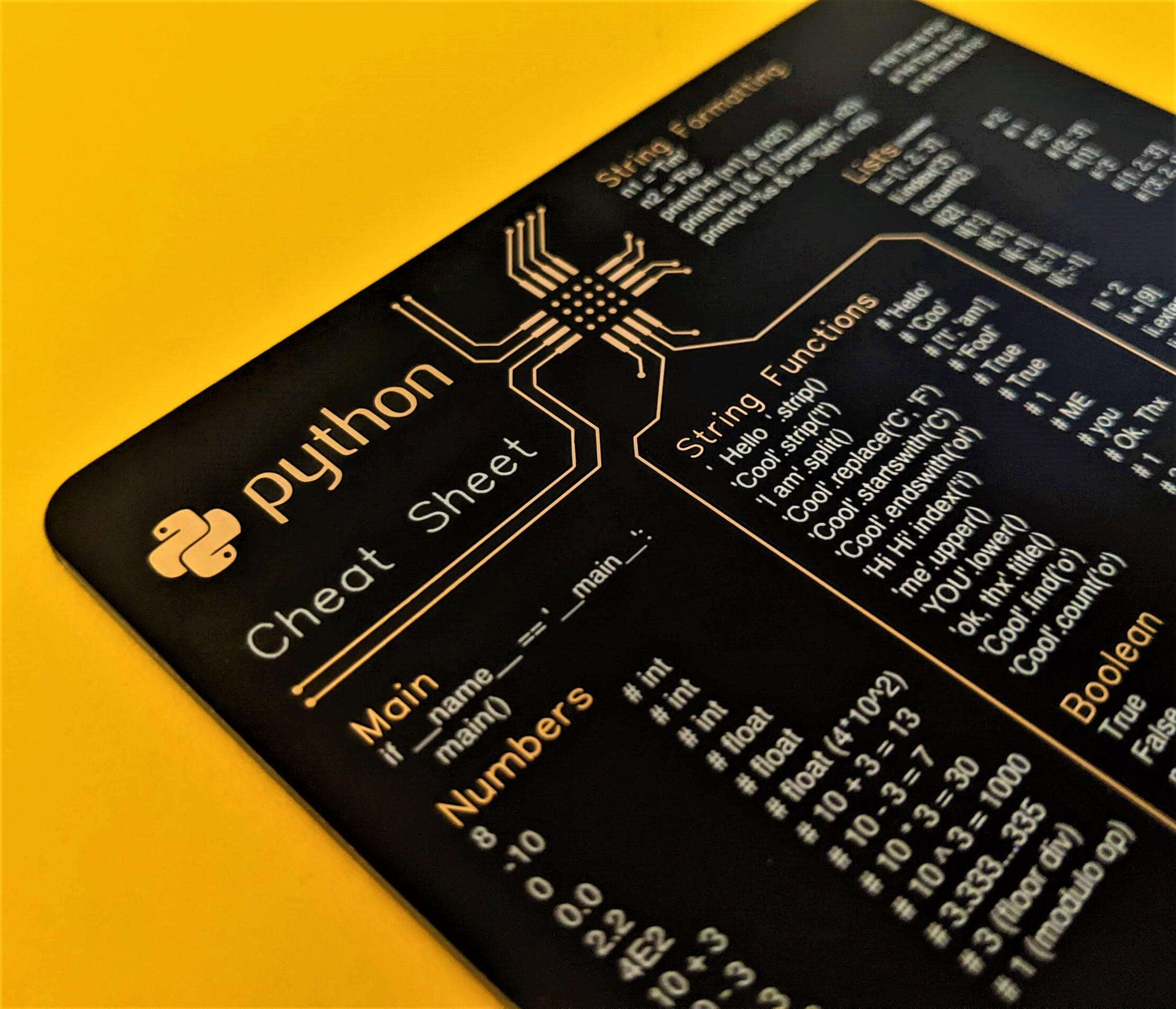 Python Cheat Sheet
Besides the excellent quality of the Python Cheat Sheet, the carefully selected software examples are also extremely helpful for Python software development.
Especially for beginners, the Cheat Sheet offers a helpful support. Professionals should see the Cheat Sheet as a sign of belonging to the Python community :)
ASCII Table Cheat Sheet
ASCII abbreviated from American Standard Code for Information Interchange, is a character encoding standard for electronic communication. ASCII codes represent text in computers, telecommunications equipment, and other devices. Most modern character-encoding schemes are based on ASCII, although most of those support many additional characters.
Git Cheat Sheet
The Git Cheat Sheet is an absolute must for any software engineer. The product consists of a high-quality printed circuit board. The special feature is the wafer-thin fonts and conductor paths coated with real gold. The gold is applied wafer-thin in a highly complex process and forms a homogeneous compound with a printed circuit board. This not only creates a unique look, but also a very special feel.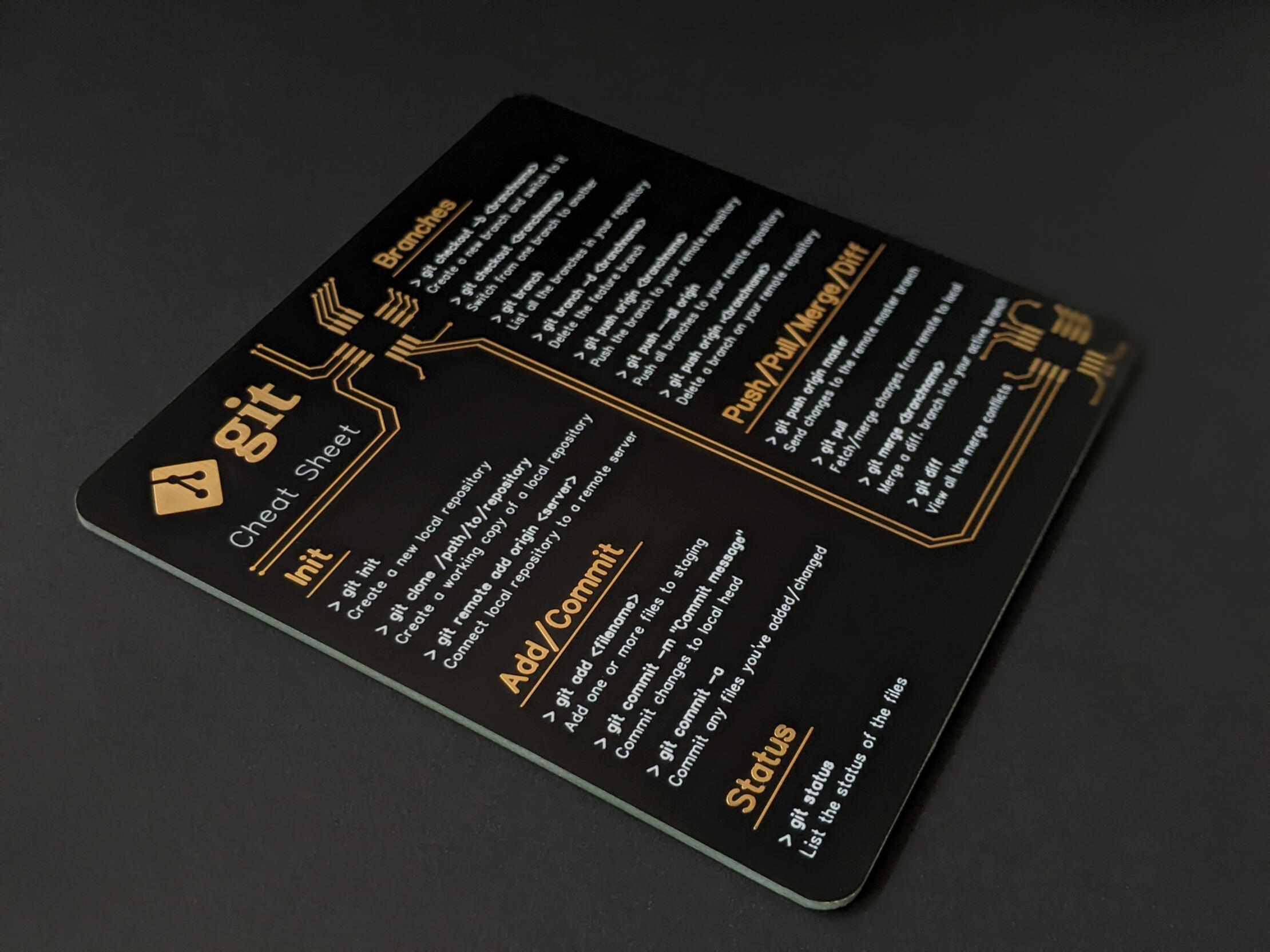 Bitcoin Cheat Sheet
Bitcoin (abbreviation: BTC; sign: ₿) is a decentralized digital currency that can be transferred on the peer-to-peer bitcoin network. Bitcoin transactions are verified by network nodes through cryptography and recorded in a publicly distributed ledger called a blockchain. The cryptocurrency was invented in 2008 by an unknown person or group of people using the name Satoshi Nakamoto.
Printed Circuit Board (PCB)
A printed circuit board (PCB) is a medium used in electrical and electronic engineering to connect electronic components to one another in a controlled manner. It takes the form of a laminated sandwich structure of conductive and insulating layers: each of the conductive layers is designed with an artwork pattern of traces, planes, and other features (similar to wires on a flat surface) etched from one or more sheets layers of copper laminated onto and/or between sheet layers of a non-conductive substrate. Electrical components may be fixed to conductive pads on the outer layers in the shape designed to accept the component's terminals, generally by means of soldering, to both electrically connect and mechanically fasten them to it. Another manufacturing process adds vias: plated-through holes that allow interconnections between layers.
Cheat Sheet
A cheat sheet or crib sheet is a concise set of notes used for quick reference. Cheat sheets were historically used by students without an instructor or teacher's knowledge to cheat on a test or exam. In the context of higher education or vocational training, where rote memorization is not as important, students may be permitted (or even encouraged) to develop and consult their own cheat sheets during exams. The act of preparing such reference notes can be an educational exercise in itself, in which case students may be restricted to using only those reference notes they have developed themselves. Some universities publish guidelines for the creation of cheat sheets.
Newsletter
Never miss a special offer or a new item in my shop.
I promise you very cool stuff will come
and you can be one of the first to own it.